Posted in
Uncategorized
on July 17th, 2014 by author —
Comments Off

on What's New, Puppy Dog?
I know, I know, it's supposed to be "Pussy Cat," but I'm not Tom Jones, and I'm more fond of dogs than cats. I mean, come on, look at my puppies!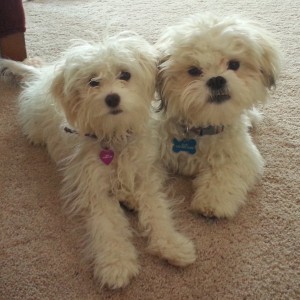 I realized I hadn't posted in a while and thought I should keep y'all up to date on what's going on. The summer has been spent running around the country for various reasons. It's been fun, but exhausting. I've submitted several stories, some short, some long, and am waiting to hear back from editors to see if they want to see more of my work (or pay me for what I submitted!)
I've been using any free time I have to research Jerusalem during the 1st century B.C. What a tumultuous period, full of political intrigue, massacres and assassinations. I hope to use Anna, the prophetess, as an eye witness to this fascinating time. I plan on researching this month, then begin writing in August. I've set a goal of 20,000 words for the months of August, September and October. This will be tough, as I'll be preparing for another book/performance tour in Connecticut for October as well.
In addition to all this, I've set a goal of getting Winter Trees out in September. The copyediting is done, now I just need to format it and get a cover. I am writer! Here me roar!
So, that's my update for now. I'll let you know if anything new comes up!