It's finally arrived! Spring! Although winter here in Nebraska wasn't too terrible, I heard the horror stories weekly from friends and family back in Connecticut. I think they're still holed up in their houses, waiting for a true break in the winter weather.
But I, thankfully, am writing this out on my deck on a glorious end of April evening. The tulips have bloomed: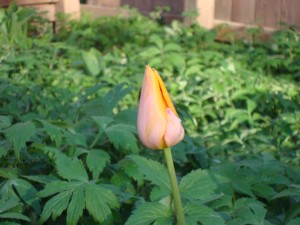 The birds are singing. The dogs are happily chasing rabbits out of the yard. All around, new life blossoms. And with this season, my muse appears to have returned!
I am holding on to God's grace as I deal with life in the real world, not my fictional one. I recently received laser surgery for reoccurring bleeding in my right eye. The doctor is calling it Coat's disease and there is no known cause or cure. The periodic cauterizing of leaky blood vessels will help, but it may not be able to prevent the permanent detachment of my retina sometime in the future. But God is good, and as this disease only seems to affect one eye, I should retain full vision in the other.  I am especially grateful, after this last round of laser surgery to be able to enjoy the beauty around me as the sun sets on this glorious spring evening.
Remember friends, to give thanks every day for the gifts that God has given you. If you can see the return of spring, thank Him! If you can hear the birds singing to each other in the trees, praise Him! Rejoice at all He has done for you and be glad. I know I am!